General: Spliced fibre rope of polypropylene and polyeten especially developed for Certex Norge as, for all different kinds of applications like mooring systems, towing ropes, lifting slings, rope for the fish farming industry, cargo nets, rope ladders and more. The structure of the fibre rope makes it non sliding in knots and splices. It should be stored away from direct sunlight.

Design: 3-strand twisted.

Specific gravity: 0,94 (floats).
Melting point: 165°C.
Elongation: At 25% of MBL = 6,0%. At 50% of MBL = 11,5%.
Material: A thermomecanical split fibre mix of polypropylene(PP) and polyeten(PE). The rope doesn't absorb water, and is resistant to rot, acid and alkalies. It has a high breaking force and floats.
Finish: Green.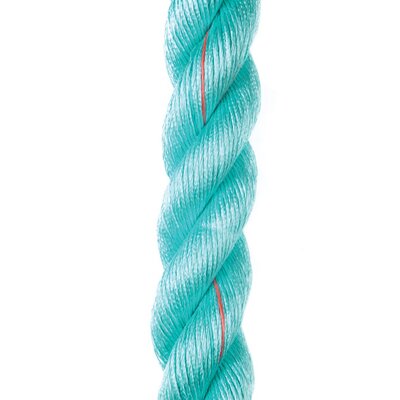 Select a row from the table below, then click the add to quote button
Download CAD

Download CAD by choosing the desired product from the table above and the format from the menu below. Click "Get CAD" and after the load reaches 100% you can click on the download icon to download it. Please note that CAD drawings are only available if the icon at the right side of the table above is colored and not grayed out.
Coil 220 m
| | | | | | |
| --- | --- | --- | --- | --- | --- |
| Art.nr | Diam. | Minimum Breaking Load | | Weight | |
| | mm | kN | tons | kg/m | kg/220m |
| 12.03MEL320C22 | 32 | 164,8 | 16,8 | 0,440 | 97,0 |
| 12.03MEL360C22 | 36 | 202,1 | 20,6 | 0,558 | 122,7 |
| 12.03MEL400C22 | 40 | 252,1 | 25,7 | 0,689 | 151,5 |
| 12.03MEL480C22 | 48 | 359,0 | 36,6 | 0,988 | 217,4 |
| 12.03MEL560C22 | 56 | 477,7 | 48,7 | 1,349 | 296,8 |
| 12.03MEL640C22 | 64 | 613,1 | 62,5 | 1,767 | 388,7 |
| 12.03MEL720C22 | 72 | 764,2 | 77,9 | 2,223 | 489,1 |
Bobbin
| | | | | | | |
| --- | --- | --- | --- | --- | --- | --- |
| Art.nr | Diam. | Minimum Breaking Load | | Length | Weight | |
| | mm | kN | tons | m | kg/m | kg/bobbin |
| 12.03MEL040SPL400 | 4 | 3,3 | 0,34 | 400 | 0,008 | 3,2 |
| 12.03MEL040SPL1000 | 4 | 3,3 | 0,34 | 1000 | 0,008 | 8,0 |
| 12.03MEL060SPL600 | 6 | 6,7 | 0,68 | 600 | 0,015 | 9,1 |
| 12.03MEL080SPL350 | 8 | 11,8 | 1,2 | 300 | 0,027 | |
| 12.03MEL100SPL200 | 10 | 17,7 | 1,8 | 200 | 0,042 | 8,4 |
| 12.03MEL120SPL135 | 12 | 26,5 | 2,7 | 150 | 0,059 | 8,8 |
| 12.03MEL140SPL130 | 14 | 35,3 | 3,6 | 130 | 0,081 | 10,5 |
| 12.03MEL160SPL80 | 16 | 44,1 | 4,5 | 80 | 0,104 | 8,3 |
Coil 30 m
| | | | | | |
| --- | --- | --- | --- | --- | --- |
| Art.no | Diam. | Minimum Breaking Load | | Weight | |
| | mm | kN | tons | kg/m | kg/30m |
| 12.03MEL040M30 | 4 | 3,3 | 0,34 | 0,008 | 0,24 |
| 12.03MEL060M30 | 6 | 6,7 | 0,68 | 0,015 | 0,46 |
| 12.03MEL080M30 | 8 | 11,8 | 1,2 | 0,027 | 0,83 |
| 12.03MEL100M30 | 10 | 17,7 | 1,8 | 0,042 | 1,25 |
| 12.03MEL120M30 | 12 | 26,5 | 2,7 | 0,059 | 1,77 |
| 12.03MEL140M30 | 14 | 35,3 | 3,6 | 0,081 | 2,42 |