General: Diepa X53 is a non-rotation resistant wire rope with compacted outer strands and high breaking force.
Typical application: Lifting wire for mobile cranes, deck cranes and container cranes where multiple parts is being used in lower lifting operations, and where right -and left hand lays are being used in at the same time. Winch and digging machines.

Design: X50 (Z371) - ordinary lay, X53 (PZ371) - Ordinary lay with plastic component, X55 - lang lay, X58 (PZ371C) - lang lay with internal plastic component.
Fill factor: 0,6750.

Standard: EN 12385-4
ISO 4309 Rope Category No: 4-14mm RCN.04, 15-44mm RCN.09, 45-100mm RCN.13

WARNING! Must not be used with a swivel!


Rope construction: 329 (Ø 15 - 44 mm).
Finish: Galvanized.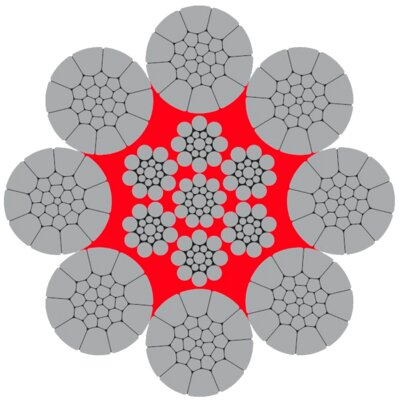 Currently this product cannot be added to an online quote. Please contact us directly for enquires.
| | | | | | | | | |
| --- | --- | --- | --- | --- | --- | --- | --- | --- |
| Art.no | Diameter | Minimum breaking load | | | | | | |
| | Ø mm | 1771 N/mm2 | | | 1960 N/mm² | | 2160 N/mm² | Weight |
| | | | | kN | kp | kN | kp | kg/100m |
| | 6 | 28.7 | 2850 | 31,8 | 3200 | 34,6 | 3450 | 17 |
| | 7 | 39.1 | 3850 | 43,3 | 4350 | 47,1 | 4750 | 23 |
| | 8 | 51.0 | 5150 | 56,5 | 5700 | 61,6 | 6250 | 30 |
| | 9 | 64.6 | 6500 | 71,5 | 7250 | 77,9 | 7850 | 38 |
| | 10 | 79.8 | 8050 | 88,4 | 9000 | 96,6 | 9750 | 47 |
| | 11 | 96.9 | 9750 | 107 | 10850 | 117 | 11800 | 57 |
| | 12 | 115 | 11600 | 128 | 12950 | 139 | 14050 | 68 |
| | 13 | 135 | 13650 | 150 | 15200 | 163 | 16500 | 80 |
| | 14 | 156 | 15850 | 173 | 17600 | 188 | 19150 | 92 |
| | 15 | 179 | 18200 | 199 | 20250 | 217 | 22000 | 106 |
| | 16 | 204 | 20700 | 226 | 23000 | 246 | 25050 | 121 |
| | 17 | 230 | 23400 | 255 | 26000 | 278 | 28300 | 136 |
| | 18 | 258 | 26250 | 286 | 29150 | 312 | 31700 | 153 |
| | 19 | 288 | 29200 | 319 | 32500 | 347 | 35350 | 170 |
| | 20 | 319 | 32400 | 354 | 36000 | 385 | 39150 | 189 |
| | 21 | 352 | 35700 | 389 | 39700 | 424 | 43150 | 208 |
| | 22 | 386 | 39200 | 428 | 43600 | 465 | 47350 | 228 |
| | 23 | 422 | 42850 | 468 | 47600 | 509 | 51750 | 250 |
| | 24 | 459 | 46700 | 509 | 51850 | 554 | 56400 | 272 |
| | 25 | 498 | 50650 | 552 | 56300 | 601 | 61150 | 295 |
| | 26 | 539 | 54800 | 597 | 60900 | 650 | 66150 | 319 |
| | 28 | 626 | 63550 | 693 | 70600 | 754 | 76750 | 370 |
| | 30 | 718 | 72950 | 795 | 81050 | 866 | 88150 | 425 |
| | 32 | 823 | 83600 | 911 | 92900 | 992 | 101050 | 487 |
| | 34 | 929 | 94450 | 1030 | 104950 | 1121 | 114100 | 549 |
| | 36 | 1041 | 105850 | 1153 | 117600 | 1256 | 127850 | 616 |
| | 38 | 1168 | 119050 | 1298 | 132300 | 1413 | 143850 | 686 |
| | 40 | 1285 | 130700 | 1424 | 145250 | 1551 | 157850 | 761 |
| | 42 | 1418 | 144350 | 1574 | 160400 | 1713 | 174350 | 838 |
| | 44 | 1556 | 158150 | 1723 | 175700 | 1876 | 191050 | 920 |
| | 46 | 1700 | 172850 | 1883 | 192100 | 2050 | 208800 | 1006 |
| | 48 | 1851 | 188200 | 2050 | 209150 | 2233 | 227350 | 1095 |
| | 50 | 2009 | 204250 | 2224 | 226950 | 2423 | 246700 | 1188 |
| | 52 | 2173 | 220900 | 2406 | 245450 | 2620 | 266850 | 1285 |
| | 54 | 2343 | 238250 | 2594 | 264700 | 2826 | 287750 | 1386 |
| | 56 | 2519 | 256200 | 2791 | 284700 | 3039 | 309450 | 1491 |
| | 58 | 2703 | 274800 | 2993 | 305400 | 3260 | 332000 | 1599 |
| | 60 | 2893 | 294100 | 3203 | 326800 | 3489 | 355250 | 1711 |
| | 62 | 3089 | 314050 | 3420 | 348950 | 3725 | 379350 | 1827 |
| | 64 | 3291 | 334450 | 3645 | 371850 | 3969 | 404250 | 1947 |
| | 66 | 3500 | 355900 | 3876 | 395450 | 4221 | 429900 | 2071 |
| | 68 | 3715 | 377800 | 4114 | 419800 | 4481 | 456350 | 2198 |
| | 70 | 3937 | 400350 | 4360 | 444800 | 4749 | 483550 | 2329 |
| | 72 | 4134 | 420450 | 4579 | 467200 | 4986 | 507850 | 2446 |
| | 74 | 4367 | 444150 | 4837 | 493500 | 5268 | 536450 | 2584 |
| | 75 | 4486 | 456200 | 4968 | 506900 | 5410 | 551050 | 2654 |