General: Drill lines is exposed to heavy loads and repetetative movements bent over sheaves and requires a flexible wire with good resistanse against wear and corrosion.
Main applications: Drill lines.

Design: Ordinary Lay.
Standard: API 9A.
Delivered on high quality steel wire drums.
Standard lengths: 7500 and 10000 feet.

Rope construction: 6x19 and 6x26.
Finish: Polished.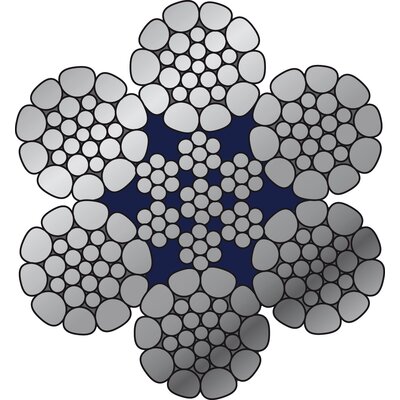 Compacted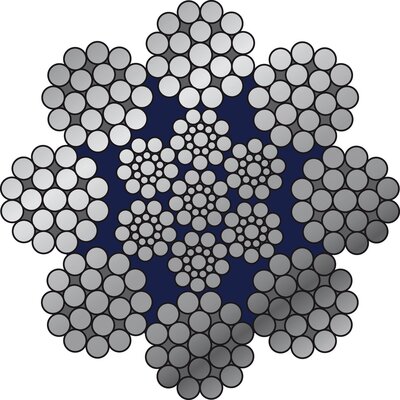 Standard


Currently this product cannot be added to an online quote. Please contact us directly for enquires.
6x19S+IWRC / 6x26WS+IWRC
| | | | | | | | | | | |
| --- | --- | --- | --- | --- | --- | --- | --- | --- | --- | --- |
| Art.no | Art.no | Diameter | | Mass | Minimum breaking force | | | | | |
| 7500 fot | 10000 fot | mm | inch | kg/m | EIPS | | EEIPS | | ALPHA | |
| | | | | | kN | tonnes | kN | tonnes | kN | tonnes |
| | | 25,4 | 1 | 2,8 | 460 | 47 | 506 | 52 | 575 | 59 |
| | | 28,6 | 1 1/8 | 3,6 | 578 | 59 | 636 | 65 | 723 | 74 |
| | | 31,8 | 1 1/4 | 4,4 | 711 | 73 | 782 | 80 | 889 | 91 |
| 01.B93KND350G025 | | 34,9 | 1 3/8 | 5,3 | 854 | 87 | 943 | 96 | 1072 | 109 |
| 01.B93KND380G025 | 36200665 | 38,1 | 1 1/2 | 6,4 | 1010 | 103 | 1110 | 113 | 1259 | 128 |
| 01.B93KND420G025 | 36200667 | 41,3 | 1 5/8 | 7,5 | 1170 | 119 | 1300 | 133 | 1471 | 150 |
| 01.B93KND450G025 | 36200669 | 44,5 | 1 3/4 | 8,7 | 1360 | 139 | 1500 | 153 | 1697 | 173 |
| 01.B93KND480G025 | 36200671 | 47,6 | 1 7/8 | 9,9 | 1550 | 158 | 1710 | 174 | 1932 | 197 |
| 01.B93KND510G025 | 36200672 | | 2 | 11,3 | 1760 | 180 | 1930 | 197 | 2216 | 226 |
| | | 54 | 2 1/8 | 12,8 | 1970 | 201 | 2160 | 220 | 2363 | 241 |
| | | 57,2 | 2 1/4 | 14,3 | 2200 | 224 | 2420 | 247 | 2697 | 275 |
| | | 63,5 | 2 1/2 | 17,8 | 2655 | 271 | 2950 | 301 | 3295 | 336 |
6xK19S/6xK26WS+IWRC Compacted
| | | | | | | | | | |
| --- | --- | --- | --- | --- | --- | --- | --- | --- | --- |
| Art.no | Diameter | | Mass | Minimum breaking force | | | | | |
| | mm | inch | kg/m | EIPS | | EEIPS | | ALPHA | |
| | | | | kN | tonnes | kN | tonnes | kN | tonnes |
| | 25,4 | 1 | 3,05 | 475 | 48 | 523 | 53 | 594 | 61 |
| | 28,6 | 1 1/8 | 3,79 | 597 | 61 | 657 | 67 | 747 | 76 |
| | 31,8 | 1 1/4 | 4,85 | 734 | 75 | 808 | 82 | 919 | 94 |
| | 34,9 | 1 3/8 | 5,9 | 882 | 90 | 974 | 99 | 1108 | 113 |
| | 38,1 | 1 1/2 | 6,64 | 1043 | 106 | 1147 | 117 | 1301 | 133 |
| | 41,3 | 1 5/8 | 7,9 | 1211 | 123 | 1345 | 137 | 1520 | 155 |
| | 44,5 | 1 3/4 | 9,2 | 1454 | 148 | 1604 | 164 | 1812 | 185 |
| | 47,6 | 1 7/8 | 10,6 | 1688 | 172 | 1862 | 190 | 2104 | 215 |
| | 50,8 | 2 | 12,1 | 1948 | 199 | 2136 | 218 | 2414 | 246 |
| | 54 | 2 1/8 | 13,7 | 2206 | 225 | 2419 | 247 | 2733 | 279 |
| | 57,2 | 2 1/4 | 45,5 | 2463 | 251 | 2709 | 276 | 3061 | 325 |
| | 63,5 | 2 1/2 | | 2974 | 303 | 3304 | 337 | 3734 | 418 |
6xK19S/6xK26WS+IWRC Compacted
| | | | | | | | | |
| --- | --- | --- | --- | --- | --- | --- | --- | --- |
| Diameter | | Weight | Minimum breaking force | | | | | |
| mm | inch | kg/m | EIPS | | EEIPS | | ALPHA | |
| | | | 1960 kN | tonnes | kN | tonnes | kN | tonnes |
| 25,4 | 1 | 3,05 | 475 | 48 | 523 | 53 | 594 | 61 |
| 28,6 | 1 1/8 | 3,79 | 597 | 61 | 657 | 67 | 747 | 76 |
| 31,8 | 1 1/4 | 4,85 | 734 | 75 | 808 | 82 | 919 | 94 |
| 34,9 | 1 3/8 | 5,9 | 882 | 90 | 974 | 99 | 1108 | 113 |
| 38,1 | 1 1/2 | 6,64 | 1043 | 106 | 1147 | 117 | 1301 | 133 |
| 41,3 | 1 5/8 | 7,9 | 1211 | 123 | 1345 | 137 | 1520 | 155 |
| 44,5 | 1 3/4 | 9,2 | 1454 | 148 | 1604 | 164 | 1812 | 185 |
| 47,6 | 1 7/8 | 10,6 | 1688 | 172 | 1862 | 190 | 2104 | 215 |
| 50,8 | 2 | 12,1 | 1948 | 199 | 2136 | 218 | 2414 | 246 |
| 54 | 2 1/8 | 13,7 | 2206 | 225 | 2419 | 247 | 2733 | 279 |
| 57,2 | 2 1/4 | 45,5 | 2463 | 251 | 2709 | 276 | 3061 | 325 |
| 63,5 | 2 1/2 | | 2974 | 303 | 3304 | 337 | 3734 | 418 |